"Lili! Gotta read Lili. Oh, and the Steampunk anthology! Dylan's in that, he sent me his story, I haven't read it yet, I suck, what else is in it? Oh, this looks fun. Holly, and Libba, and ooh, comics! Look, Matt, look! Comics! Yeah, I'm getting this. Lili's Love-Shy, and Dylan's steampunk."
"Oh, Among Others! This book is about how reading makes life bearable even when it's not. It's about a girl who - her twin died, and she's in a boarding school and becoming a sexual being and she reads a lot of science fiction and fantasy I think it's the sixties? Also, fairies. Different fairies, it's good."
*stabs viciously at author's name on spine* "This guy… this guy, okay, no, I was at a thing with him once, no, no way, no."
"Hello! I would like to buy these books, and also I wrote this one, would it be all right with you if I signed it? Thank you! I like your nail polish."
*points to Villette* "Matt, this book is amazing. You read it, and at the end you're like, why is everything? That's my review. Don't read it, though."
* Turns out I had to hit up the Book Depository. I still love you, Book Depository.
This entry was originally posted at http://karenhealey.dreamwidth.org/66693.html. You can comment here, at Dreamwidth using OpenID, or at my website, karenhealey.com
"So many white dudes. I want the new Karen Lord, L, L, no. Um, I wonder if… no, this is sci-fi, where's YA. Sherri Smith, I think? Yeah, Flygirl, Smith. S, s, s, no! What do I have to do get Orleans? Or the new Seanan McGuire?*"
... and now I have a week of full-on assessment. But before that begins, I get a glorious weekend, during which I shall BLOG. Like the WIND. If the wind liked to BLOG.
In the meantime, here is a question I answered on my tumblr, and am pleased enough with to submit to wider dissemination in a more permanent form.
"Out of curiosity, if you were creating a Captain New Zealand for the Marvel Universe, who would they be?" by franzferdinand2
OOOOH.
Okay, so I am a traditionalist - I think the Captain characters should have military backgrounds, and be patriots, though not tools for patriotism. They should in some way encapsulate (insofar as possible!) the public perception of the "ideal" of their country, and they should be widely adored by the public.
So, I'd go with someone fictional, but inspired by Corporal Bill Henry Apiata, VC, the most trusted man in New Zealand. Willie Apiata is the only recipient of the Victoria Cross for New Zealand, the highest military commentation we have. It was awarded when he carried a severely wounded comrade over broken ground, while exposed to heavy enemy fire.
He was also awarded the Presidential Unit Citation, which means his bravery has been recognised by two nations - not a bad start for a Captain figure. And having left the military, he now teaches adventure skills to young people. I think we all know I have a lot of respect for teachers!
So that's what I'd do - someone with a fairly normal background (I'm just a kid from Brooklyn/Te Kaha) who pursues a career in the army and exhibits extraordinary valour and care for his colleagues.
I'd leap into fiction with the return - perhaps he pursues a teaching role in a school, and while the school goes on a field trip to a science laboratory, he surprises some saboteurs who are trying to steal some work NZ chemo-geneticists have been doing on the super serum. They fail to obtain the secrets, but in the process, my character is accidentally exposed to the serum and OH MY GOD now he has superpowers.
So yeah. That's what I'd do.
This entry was originally posted at http://karenhealey.dreamwidth.org/66423.html. You can comment here, at Dreamwidth using OpenID, or at my website, karenhealey.com
My first teaching placement is OVER!
When We Wake has been getting some awfully nice reviews. Particularly, it is getting nice reviews from sci-fi venues, which pleases me very much, since this is my first sci-fi story.
the Whatever
, right? This is the feature where authors will tell you the Big Idea behind their latest release, also known as The Place Not To Go When You Are Poor And Have Instituted A Book-Buying Ban, Yes, On Everything, Even That Really Cool One, Oh Wait, Maybe Just One Or Two Or Five.
It's a great feature. Directly responsible for me spending a lot of money on very good books.
Anyway, the point is, I wrote my
Big Idea for When We Wake
, talking about (naturally) Sleeping Beauties, and why I wanted an action hero with verve to be my leading lady. Go! Read!
This entry was originally posted at http://karenhealey.dreamwidth.org/65914.html. You can comment here, at Dreamwidth using OpenID, or at my website, karenhealey.com
Internets, y'all know John Scalzi's Big Idea feature at
I valiantly slew a whitetail spider last night, but as it lay in agony, legs twitching, it laid upon me its death curse. Now I have the plague.
No, wait, time to talk about MY NEW BOOK.
Internets, When We Wake has been released in North America. I was lucky enough to do a blog tour on five awesome young adult fiction blogs to coincide with this release.
BUT. I didn't really want to do a blog tour when people ask me questions and then I answer, because I already had lots of that kind of interview lined up. Even though I could happily talk about my process and inspirations forever (which reminds me, I owe you a Sleeping Beauty essay on Captain America) I didn't want to go around repeating myself.
SO. My awesome publicist was like, why don't they interview When We Wake CHARACTERS? And I said, yes! Faye, you are brilliant! They can interview characters on topics relevant to the book!
So that's what we did. Massive thanks to Faye and Little, Brown for organising everything, and even more massive thanks to the bloggers, who really put the extra effort in to come up with compelling, relevant, interesting questions! I am super happy with the WAKE UP tour, which you can read by clicking on the links below.
If you are in the US, you can also enter giveaways for the book!
The WAKE UP tour:
Bethari talks about media and communications
at Novel Novice.
Abdi talks about immigration
at The Book Smugglers.
Dr Marie Carmen talks about science and medicine
at 365 Days of Reading.
Tegan talks about music
at Forever Young Adult.
Joph talks about the environment
at The Readadventurer.
This entry was originally posted at http://karenhealey.dreamwidth.org/65285.html. You can comment here, at Dreamwidth using OpenID, or at my website, karenhealey.com
Time to talk about me!
* Character, setting and theme in the Hunger Games
* Short story analysis for theme
* Love poetry, with particular focus on the sonnet
* Research methods, particularly online
* The conventions of graphic novels: connection between word and image; placement of panels; composition within the panel.
* Diary comics as genre.
* Creative writing, genre.
PLUS I get to help out with the Debating club and host (while I'm there) the Creative Writing group.
BEST JOB BEST JOB BEST JOB.
This entry was originally posted at http://karenhealey.dreamwidth.org/65212.html. You can comment here, at Dreamwidth using OpenID, or at my website, karenhealey.com
Things I get to teach in my teacher intern placement:
Or nearly two weeks, much the same thing in internet time.
What have I been up to? Teacher training! Story of this year, Internets. If ever you find yourself thinking, "That Karen creature, what is she up to, why does she not post as regularly as she did of old?", you may then think, "Ah, teacher training," and nod wisely to yourself at your perspicuity. One should take advantage of every opportunity to nod wisely at oneself.
I also did some other stuff! Internets stuff!
1:
Here is
an interview
I did with delightful Australian SF blog Spec on Spec Fic. A sample:
How did you go about creating the Australia, and Melbourne, of the future for your book? What kinds of research did you have to do?

Living in Melbourne for five years was good research! It's such a multi-cultural place, something I tried really hard to get across – that excellent blend of style, culture and voice. I wanted to get across the way the lanes and broad roads feel, that combination of wide spaces and squished, secretive alleys. I did a lot of research on the likely effects of climate change on Melbourne and Australia, none of it particularly cheerful. And, as always, since I know nothing about trees, I spent some time on horticulture sites. Trees are hard!
Trees are so hard, Internets.
2:
I went to Oamaru and launched When We Wake from the familiar comforts of the Oamaru Library, a place that has been a wonder and a sanctuary to me since I was nine years old.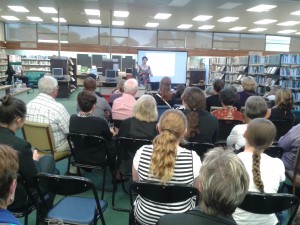 When We Wake Launch in Oamaru Library
IT WAS AWESOME.
Fabulous turn out, great eats (thank you, Allen and Unwin! The cheese was magnificent!) and even the tech behaved! I did a sped up and truncated presentation of the Sleeping Beauty essays I've been doing for you, Internets, and it was very well received.
3:
The trailer for When We Wake was released.
Oh, Internets.
Oh, Internets, I can't even tell you how much I love this trailer. Everyone loves this trailer.
ALL BLACK TAMATI ELLISON
LOVES THIS TRAILER, TRUE STORY*.
Those who have read the book may have noticed that Tegan has an American accent in the trailer. Also, hair. But I cannot even bring myself to be mildly perturbed by these details, because I LOVE THIS TRAILER SO MUCH I WANT TO BAKE IT IN A PIE.
* He was at my mother's school for an assembly and she played the trailer to the assembled students and afterwards he came and told her how much he liked it.
So, omg, and also, MUM. WHAT? OKAY.
This entry was originally posted at http://karenhealey.dreamwidth.org/64943.html. You can comment here, at Dreamwidth using OpenID, or at my website, karenhealey.com
Internets! Oh my gosh, it's been FOREVER.
While I settled into my first week of teacher training,
When We Wake came out in Australia and New Zealand!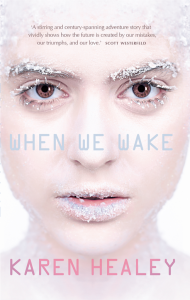 In all good bookshops and on all good bookshelves now.
People have been very kindly tweeting me (@kehealey) about how the book is making them cry. EXCELLENT. Please continue. Your tears give me strength.
My website needed revamping for this momentous occasion. The excellent Melanie Reese adapted an Elegant Themes design for
KarenHealey.com
, so now everything looks very clean and futuristic, which is just right for this book! I threw up some bonus content - you can find it at
the When We Wake page.
In OTHER exciting news, When We Wake has garnered some great reviews from trade publications, including something I have coveted for a while now, which is a STARRED REVIEW from Kirkus Reviews.
Some extracts:
STARRED REVIEW:"Accessible, thoughtful and compelling — science fiction done right." – Kirkus Reviews

"[A] taut drama set in an unnervingly realistic future world. Tegan is a compelling and believable narrator, and her story is full of moral complexities that are as suspenseful and dramatic as they are topical and relevant." – Bookseller + Publisher

"[A] very persuasive future world … smartly extrapolated from contemporary society. The story's injustices unfold in a way that's stark and unvarnished." – Publishers Weekly
Thank you, reviewers, you make me very happy. I know that's not your goal, nor should it be your purpose, but I find it an excellent byproduct.
I wrote a guest post for Behind A Million And One Pages on
the cryonics of When We Wake
and my most unscientific thought processes as I worked on the idea. My brand new copy of Briar Rose has arrived, so I can crack on to my next
Sleeping Beauty essay
, hopefully this weekend. Oh, Sunday, how you are rapidly filling up your to-do list already.
And, finally, I saw the first cut of the When We Wake US book trailer today. It is stunning; creepy and beautiful and made me want to sit down and read the book again. After writing and revising and reading and rereading my books umpteen times, this is not a reaction I usually have. I think we can safely say the trailer is effective. I will let you know where to find it as soon as I can!
This entry was originally posted at http://karenhealey.dreamwidth.org/64701.html. You can comment here, at Dreamwidth using OpenID, or at my website, karenhealey.com
Internets! Some housekeeping/update notes for you.
In the first essay,
I discussed the European origins of the fairy tale
. In the second essay
I made some inflammatory statements about the Grimm brothers and told the sad story of Tchaikovsky yearning for critical approval
. In the third, I talked about
the Disneyfication of the story with the very pretty movie.
And now, Internets, it's time to get political, with Sheri S. Tepper's award-winning novel, Beauty.
I quite like a didactic book, a book that tells me to think about things, a book that makes a clear argument for a proposition. I am also pretty obviously happy to include didactic elements in my own work. I mean, the messages in my books are not particularly subtle: The narratives that you are exposed to shape your life, so think about them! Don't slut-shame people! Please don't kill yourself!
Sheri S. Tepper is a writer of didactic books, and
how
. Her messages are also not super subtle: Patriarchy is really bad for everyone, but especially women. If humans keep treating this planet like our personal rubbish dump the species will regret it. And so on!
Tepper's characterisation doesn't usually appeal to me, but her ideas and world building certainly do. She'll come up with a what if, and explore it. What would a gender separatist society look like and how would it function? (The Gate To Women's Country) What if humans were missing a racial memory, and that caused our frequent bouts of cruelty and sadism? (The Margarets). Interesting questions! Interesting worlds!
Often kind of weirdly formulated arguments.
Because while Tepper is doing all these interesting things, I cannot help having
questions
about so many of the things that are just assumed to be true as she explores her worlds and makes her points. Such as, what's with the genetically transmitted personality traits? Where are the queer people? Are you honestly equating people who create porn and cut down trees to actual rapists and murderers? Are you serious about this gender essentialism? For reals? Like… really?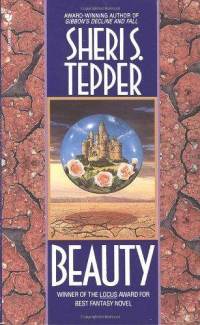 In Beauty, Tepper's what-ifs go like this: what if the original Sleeping Beauty were born in 14th century England, the daughter to a duke? What if she had an illegitimate half-sister, born the same day, who looked so like her that the two girls regularly swapped clothes and played tricks? What if the curse of the fairy Carabosse was that the Duke's daughter would prick her finger and sleep on the day she turned sixteen?
And what if it wasn't Beauty who fulfilled the curse, but her sister Beloved?
While everyone else sleeps in the enchanted castle, Beauty is left to go her own way. She is promptly accidentally kidnapped to the late 21st century by a time travelling film crew, who have come back to film the 14th century; the death of magic.
The 21st is depicted as a horrible place, ruled by the notion of Fidipur (feed the poor), where the billions of people in the world are equally housed in horrific 100 square foot apartment hives and are dispensed tasteless food made from sea algae.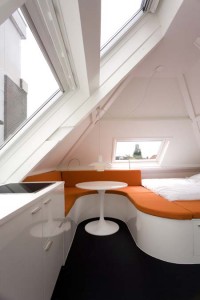 The apartments presumably don't look much like this adorable converted attic apartment, which is actually even smaller.
In this Fidipur future, all the forests are gone, all mammals except for humans are gone, all things of beauty and art are gone. People caught trying to get more are sent down the chutes to die. Beauty manages to go back far enough to hit the 20th century, where she can already see signs of Fidipur beginning and learns from other time travellers that after Fidipur, there is nothing – eventually, by about 2114, humanity ends in everyone going down the tubes, because they cannot cope with the grim horror of their lives. So many try to go down that the machines clog and break and the bodies rot.
This is only the beginning of a complicated and involving plot, which includes angels, the Devil, fairies, magical realist adventures in a created world, a trip to Hell, and the revelation that Beauty is personally responsible for a lot of fairy tale figures - she is not only herself, but the mother of Cinderella, the grandmother of Snow White, and the great-great grandmother of the Frog Prince.
But Beauty's real mission is to make sure that the future she saw never takes places – or that if it does, humanity will survive afterwards. Eventually giving up on her ability to defeat the "gobble-god" of greed and ugliness, Beauty instead manages to create in Westfaire castle a kind of Ark of beauty and art. This place is designed to exist outside time until Fidipur's time has gone, and the human race can be revived. With, I guess, a feudal political system, because reasons.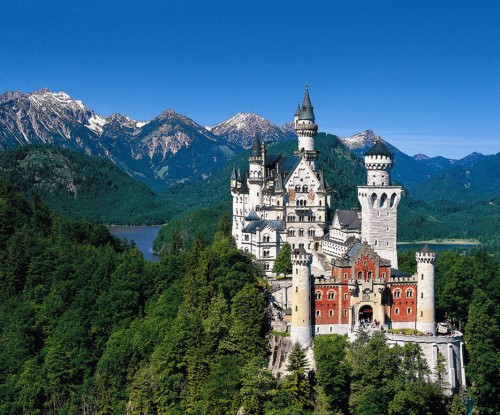 I always imagine Westfaire looking like Neuschwanstein
The big problem I have with Beauty (well, one of two – a brief follow-up on that tomorrow) is that I think the Fidipur scenario is both too good and too bad to be true.
It's too good to be true, because the Fidipur future Beauty describes involves everyone getting the same tiny living space and the same bland food substitutes and having to live by the same austerity rules. This assumes that people in power will decide to actually feed the poor and to allocate resources equally. That doesn't gel with what I've seen of human nature. I don't accept that all the people with enough power to enforce these rules would be satisfied with their own stark little cell and tasteless pap. I just don't think most relatively rich and powerful people would be overly concerned with feeding the poor. They sure aren't now.
(And yet, in an environment where this kind of equal austerity is practiced and brutally enforced, the people in charge (who we never hear anything about) do not take measures designed to reduce overpopulation and free up resources, other than killing people who break the rules. They just maintain the austere status quo. I don't get it.)
This future is also too bad to be true, because I don't think the mass suicide of the enormous population and the complete destruction of any kind of beauty is a viable projection. Beauty's idea of the worst possible future is one where everyone has a place to sleep and enough to eat. It's a grim, squashed-down kind of existence, but people are, right now, surviving in much worse conditions. They shouldn't have to for a second, but they are. And while suicide and depression are indeed rife among people actually living in grindingly horrible circumstances, they are not universal.
When We Wake is, like Beauty, a Sleeping Beauty story that pays a lot of attention to what the future might bring. In the future of When We Wake, there are dwindling resources. There is overpopulation and due to rising sea levels, less living space than ever before.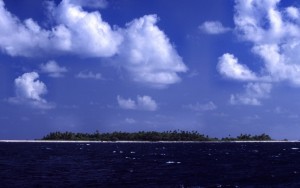 Funafuti atoll of Tuvalu, by marlins @flickr. Sorry about writing that you disappeared, Tuvalu.
These limited resources result, not in equality, but in an even greater disparity between the powerful and the powerless, those with all the advantages and those with very few.
Some reviewers are calling When We Wake a dystopia. I don't think it is, but bear in mind I'm the same person who wrote about people getting torn in half and someone eating someone else's brains in Guardian of the Dead, and was then legit surprised when people told me it was a horror novel. When We Wake is just how I think humans might act, extrapolated forward.
I think they will be both better and worse than Beauty tells us. In my 22nd century, art and beauty and music don't disappear. People can still be wise and honest and brave. But they can also be selfish and cruel.
In When We Wake, one of the questions Tegan has to face is why she's been brought back to life, at incredible expense, to be another mouth to feed in a world with billions of them. Who is being hurt by her revival? Who stands to profit? Why does she get to live again when thousands of refugees are treated as automatic criminals and kept in huge camps? What are the implications of her revival - what happens if it can be repeated, with the very many relatively wealthy people who have been cryogenically preserved in the century since her own death?
And does she, like Beauty, want to change the future?
The answers to the first questions are yet to be seen!
The answer to the last one is yes.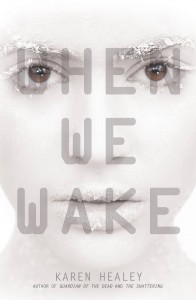 When We Wake will be available from Little, Brown and Allen and Unwin in March/February 2013. Pre-order through Amazon.com, Barnes and Noble, or IndieBound.
This entry was originally posted at http://karenhealey.dreamwidth.org/64299.html. You can comment here, at Dreamwidth using OpenID, or at my website, karenhealey.com
Internets! It is time for the January Sleeping Beauties essay!